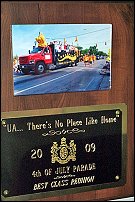 Once again, the Class of 1969 won the UA Civic Association's "Best Reunion Float" Award for our creative, animated, well-populated and spirited float. We owe a HUGE thank you to Dave Cooper, who designed and directed the construction of this amazing float.
The theme this year was "UA - There's No Place Like Home," and our float illustrated that our class now represents almost all 50 states and several global nations, but they still love to come home to UA for their class reunions! Thirty-two classmates walked alongside the float in gold t-shirts and ruby slippers (made by Dave!), and demonstrated their class spirit with line dances and singing as we made our way down Northwest Boulevard. Nearly 45 others rode on the float.
Thank you to Dave Cooper, our Float Chairman, and everyone who worked on the construction of the float and to those who participated by riding or walking the parade route. Our class spirit was evident, and during our 40-year reunion weekend, we proved that there truly IS "no place like HOME."