IMPORTANT!!!


PLEASE UDPATE YOUR CONTACT INFORMATION!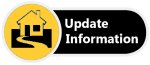 Have you moved? Changed your phone number or email address? Changed your last name? We really want to keep the UAHS Class of 1969 database as complete and accurate as possible, and we depend on YOU to help us with this huge project. PLEASE COMPLETE THIS FORM.
VISIT AND "LIKE" THE UA69 FACEBOOK PAGE
| | |
| --- | --- |
| | We hope that ALL our classmates will join us on the UA69 Facebook page. If you already have a Facebook account, please visit this page, like it, and recommend it to all your UA69 friends! We hope to be able to use this Facebook tool as a way to send out periodic quickie messages about upcoming events or news. See our Facebook page here. |
JEANNE FAVRET PUBLISHES BOOK OF HAIKU AND PHOTOGRAPHS
| | |
| --- | --- |
| | |
| JEANNE FAVRET | CATALPA TREES BLOOM |
November 16, 2022 - Here is a message from JEANNE FAVRET to the Class of 1969:
Hello UA69 classmates,
I retired a year ago, and it has allowed me the time to pull together a book entitled Catalpa Trees Bloom, using my haiku poetry and photographs.. It is written in the hope that I can record beautiful images and recall memorable moments. Seeking beauty and sharing it with you is the purpose of the book. Comments I hear are that "it makes a lovely gift."
If you are interested, there are a few ways to order the book:
It can be ordered from Hummingbird Hollow Press or from the Amazon.com website, where you will find this short description:
"Catalpa Trees Bloom" is a charming pairing of haiku poems and photographs. Jeanne Favret invites the reader along on her meditative morning walks. The ordinary becomes extraordinary through the gift of her attention. Flowering catalpa trees, geraniums, tomatoes and cottonwoods - the four seasons are here to enjoy."
Or - you can order directly from me at $25.00 with free shipping. If you like this option, please make a check payable to "Duck Vistas, LLC." Below is my contact information.
Jeanne Favret
2708 Vista Larga Ave NE
Albuquerque, NM 87106
Email: jeannefavret21@gmail.com
I donated three copies to the Upper Arlington Library system, so the Tremont Road branch, Miller Park, and Lane Road branches have it to check out. It has been cataloged and is on their shelves.
My special thanks go to Matt Oetzel, who photographed me for the back cover of the book.
I look forward to hearing from you and hope you enjoy the book. My thanks to Ellen Clark for her work she does to help our class stay in touch. We are fortunate!
Thank you,
Jeanne
STEVEN BASFORD PUBLISHES NEW BOOK

Steve Basford has published another book: 2001 Games (And Counting): A Sports Odyssey. It is available on Amazon.com and Barnes & Noble's website in hardback or Kindle.
Steve will also be present at the Mid-Ohio Indie Author Book Expo on Saturday, August 13 from 3:00 - 7:00 pm in Grove City. See all the details about his book and his appearance below.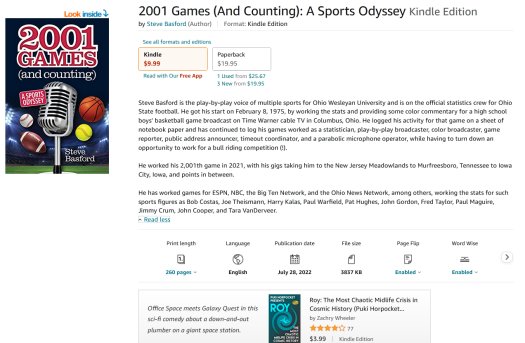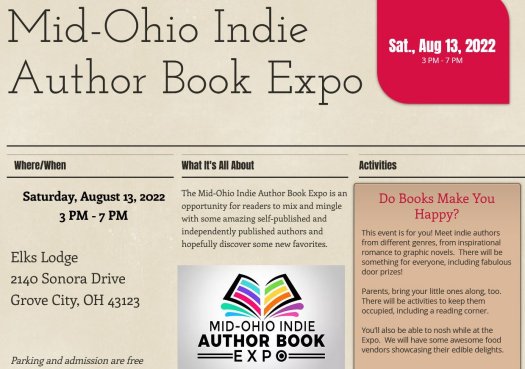 UA69 SUMMER GET-TOGETHER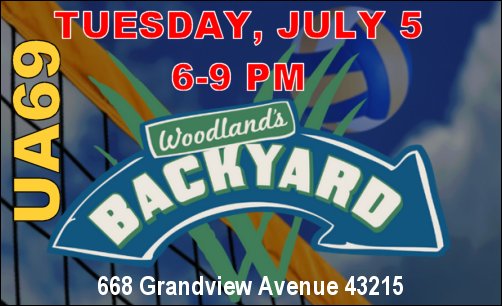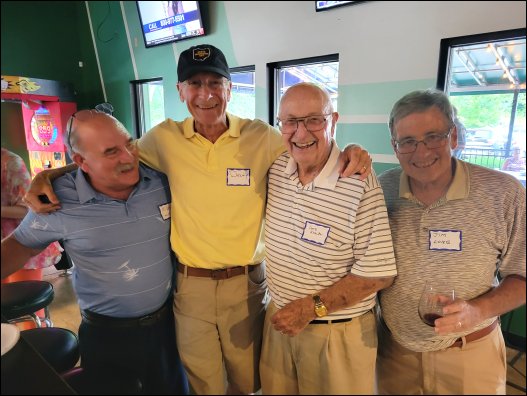 Thank you to Nikki Spretnak, Sherry Sopp Peterson and Doug Crim organized a SUMMERTIME GET-TOGETHER so we could connect with our classmates between reunions!
We all met at Woodlands Backyard in Grandview on July 5 to hang out and catch up, and we had a pretty good turnout!

STEVEN HOLLOWAY PUBLISHES BOOK: QUEEN OF THE NIGHT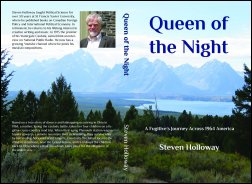 Here is a message from Steven Holloway:
"In June, 2022, my first novel, Queen of the Night: A Fugitive's Journey Across 1964 America, will be launched by Amazon KDP on the Amazon.com website. The book will be available in paperback for $16 or Epub for $8, or freely accessed if you subscribe to Kindle Unlimited.
This fictional account is roughly based on my parents' violent 1964-1965 divorce and child abductions, back and forth. For those classmates who didn't know about my dysfunctional family, I think you'll still find the book interesting because we all share the experience of becoming "teens" in Upper Arlington in the mid-60s.
Though the middle part is a classic "Road Trip" story from Columbus to the Tetons, the book begins and ends (and most of the action happens) in Upper Arlington. The names have all been changed (oops! One or two may have slipped through!) but the place names and events (such as Hastings Junior High, Kingsdale, Monday Night folk dancing at Whetstone Park Rec, the 1964 election, Vaudvillities, arrival of the Beatles and Mary Poppins) are all unchanged.
I hope you'll read and enjoy this blast-from-the-past, and if you do, please leave a review at Amazon on the book's page. And spread the word."
You can access the Amazon.com page devoted to Steve's book here.
You can email Steve here.
Congratulations to Steve on the publication of his book!
MUSICAL FLASHBACK TO THE 60s!
Linda Whiteman Uhrenholt sent me this link - what a great compilation of musical performances from Ed Sullivan's show!
We were so fortunate to have grown up during that particular time in music. Maybe every generation feels this way, but come ON! This WAS the best music ever - right?
Thank you, Linda!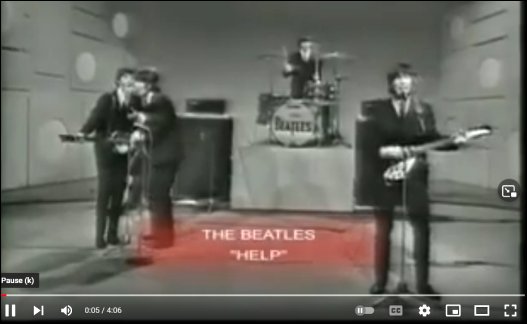 TED McNULTY INDUCTED INTO ATHLETIC HALL OF FAME: 2022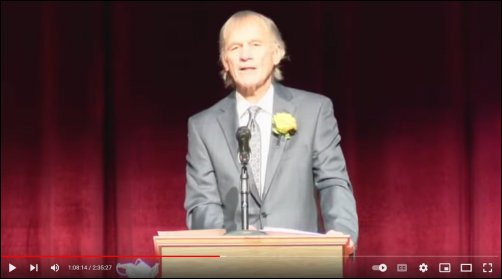 Doug Crim representing Ted McNulty upon his induction into the
UAHS Athletic Hall of Fame: January 22, 2022

The late Ted McNulty, star Golden Bear football player from the Class of 1969, was inducted into the Upper Arlington High School Athletic Hall of Fame on Saturday, January 22, 2022 at the new high school.
Doug Crim spoke about Ted and his football achievements, and you can watch his presentation here.
Doug's speech begins at 1:05:14 and is about 7 minutes long. Doug paints a picture of the spirit and dedication of the football team we all knew so well and loved so much, and especially depicts the close, enduring, lifelong brotherhood that distinguished this championship team from all others.
Another inductee was Superintendent Walter Heischman, who was represented by Dave Shelby. You can watch his presentation at 33:45.
Former teacher Tom Williams represented inductee Dick Larkin, the head coach of six different sports during his tenure at UAHS (FF to 55:52)..
Read more information about the 2022 UAHS Athletic Hall of Fame here.
Watch the Athletic Hall of Fame ceremony video here.
STEVE BASFORD PUBLISHES NEW BOOK ABOUT OSU FOOTBALL
Congratulations to Steve Basford, who has published a new book entitled Buckeye Memories: From the Couch, the Stands, and the Press Box ... and a Few Fun Facts.
From the Amazon.com website:
"Steve Basford had a 50 year streak of not missing a home Ohio State football game snapped by the 2020 pandemic, with 39 of those years in the press box as a statistician. In addition, he has attended several road games in California, Washington, Arizona, Texas, and other states. This book captures his memories of decades of Ohio State games, and includes over 500 amazing Fun Facts."
On October 11, 2021, Steve was featured in a podcast by Todd Walker of WIMA radio in Lima, Ohio, and you can listen to the interview here. It is the third podcast from the top of the page.
Here is the Amazon.com page where you can purchase the book.
Congratulations to Steve! It'll be fun to read about his experiences in the press box at so many OSU football games.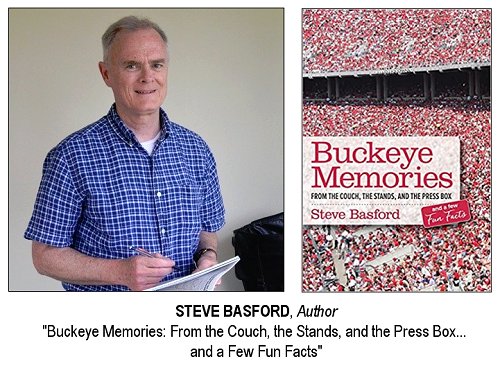 DOUG EZELL AND BRENT HAWLEY COMBINE MUSICAL SKILLS!
A note from Doug Ezell:
"A few months ago Brent Hawley (from Colorado) called me in Montana and asked if I would show him some tips on fly fishing, which I've done for over 40 years.
This week he came up to my cabin for a few days. We fished--he caught his first really beautiful rainbow trout--and reminisced and played a ton of music. It was a total blast and so fun to catch up with a guy who was in my kindergarten claWss at Tremont."
Below is a video of Doug and Brent playing their mandolins!
PAM SHUEY SNYDER DONATES "HAIR" ALBUM - STARRING BEV D'ANGELO
We all know that our class is filled with thoughtful and wonderful friends, right? Classmates often send lovely thoughts and memories and nostalgia to me, and I thought this was something especially fun that you might enjoy.

Pam Shuey Snyder (Pam is married to Chuck Snyder, Class of 1968), recently wrote about stopping in an antique store in Fairview Tennessee, near their new home in Franklin TN. Pam wrote,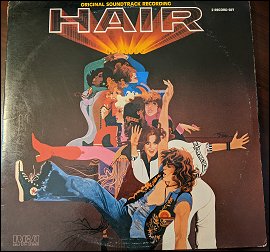 "Chuck and I were going out to lunch Friday when we saw a fun looking Antique Shop. There are a lot of them down here but this one had a quirky look to it so we stopped.
Anyway, we were not disappointed in their selection of odd ball things. One large area was set aside for a vast collection of old record albums. Chuck was busy talking to the owner of the collection as they bonded over their love of old rock groups and members. I wandered around looking in the wooden boxes at the album covers of all types of music from the 60's to perhaps the later 90's.
At the front of the box holding "Musicals", was an album of the original songs from "Hair". I thought I remembered that Bev D'Angelo was in that show. Just goes to show that my mind is a trap of useless information, as I don't really even know her. It is a double album and has a lot of pictures of the cast including Bev. I remembered in one of your emails since the reunion you mentioned her being in Columbus Monthly. With her being in our class, I thought you may like this bit of classmate history.
If you would like me to send it to you, I will. I thought of you when I found it. The gentleman that owned all these albums gave it to me for nothing once I told him Bev was a classmate and I knew someone would appreciate it. He shared that he always had a crush on her since seeing the "Christmas Vacation" movies with Chevy Chase.
Who would expect to find a little of a UA history in a shop in Fairview, Tennessee, a country town southwest of Nashville, in 2021!"
The film "Hair" was released in 1979 and starred Beverly D'Angelo, along with Treat Williams and John Savage.
See the IMDB entry about "Hair" here.
Watch the original "Hair" movie trailer here!
Below are some photos of this album, which Pam then packaged up and mailed to me. I will add it to our collection of Class of 1969 memorabilia to be displayed at our 55-year reunion in 2024.

SUSIE RINEHART GARDNER ANDTHE JACKSON SCHOOL FOR THE ARTS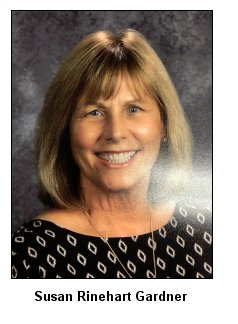 Susie Rinehart Gardner, who has directed the 300 member academy for the past 18 years, came up with a creative way to hold their annual fundraiser this year.
The annual fundraiser for the Jackson School for the Arts (JSA) needed to be held virtually, due to Covid-19 restrictions. Despite having a different format, it was a huge success.
Julie May Jones called my attention to Susie's work, and you can watch the video below to see the kinds of amazing work this school does in all areas of the arts.
This special film presentation themed "There's No Place Like Home" showcases the ongoing creative commitment and behind-the-scenes action of the Jackson School for the Arts academy and its 300 students throughout the COVID-19 crisis, while highlighting what makes our community and JSA so special.
Jackson School for the Arts (JSA) is a 501(c)(3) nonprofit providing a highly specialized arts program within Jackson High School. Established in 2001, JSA provides talented students with a unique curriculum including Advanced Placement (AP) and College Credit Plus (CCP) courses, real-world art experiences and activities, and access to student organizations and mentoring.
Students are exposed to vocal music, instrumental music, dance, visual art, photography and theatre and are required to meet high academic standards for eligibility and continued program participation. To learn more, visit JSAjackson.org.
SCOTT ROBERTS ACTIVE IN COMPETITIVE BALLROOM DANCING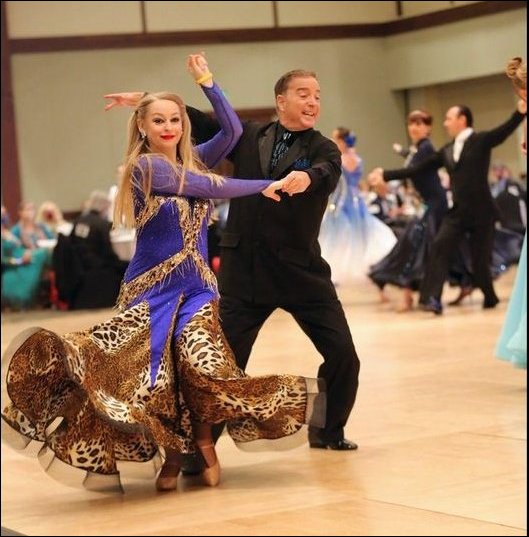 Scott Roberts sent this photo and the accompanying message. If you go to Scott's FB page, you can see video of his amazing talent! Here is what he wrote:
The Covid world notwithstanding, I have tried to stay in touch with some of my joyful activities. Competitive dancing is one such world and is slowly starting to open up again (thank goodness.) Since my hootenanny ministry is on dry ice, I have poured myself into 6-8 hours of dance lessons a week to try to stay sane. We all have lost so much.
I competed in a big dance competition this past Sunday, February 7, 2021 in Orlando called "Majesty Dance Sport." A friend took an action shot of my doing my American foxtrot with my pro Russian teacher Anastassia Abramenko (who started dancing when she was 6!)
BEVERLY D'ANGELO'S LIFE STORY FEATURED IN COLUMBUS MONTHLY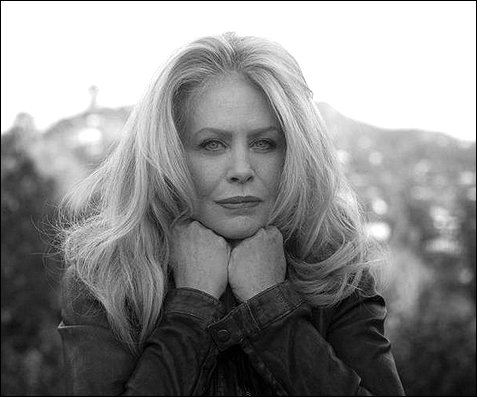 The December 2020 issue of Columbus Monthly magazine had a feature story about our own Beverly D'Angelo, but they just released it for general reading (apparently only the print version had the story available. They explained to me that they generally wait until the following month to make the articles readable online.

I hope you'll enjoy this extensive and insightful story into the life of our classmate, who, as you will recall, was named the 2009 "Distinguished Alumnus" by the Upper Arlington Alumni Association.

Beverly certainly has lived an exciting and adventuresome life, and clearly has no plans to slow down!
2019 50-YEAR REUNION PHOTOS

THANK YOU to everyone who sent in pictures from the reunion events!
The photos from the various reunion events have been organized into 9 Shutterfly albums online. To view them:
1. Click the link to the album you wish to view.
2. Click the first picture to bring up the entire album. There are forward and backward arrows above each image.
3. Click the arrows to navigate through the albums, or if you want them to advance automatically, click "Slideshow", on the left above the pictures. This feature does make the photos larger.
4. You'll find the names of people in each picture in the bottom left corner of each image.
5. If you want to purchase any of the pictures, you can do so by clicking "Review and order" in the upper right corner, above the image.
6. OR - If you want to save a copy of a picture to your hard drive, I suggest doing a screenshot. Shutterfly prefers that you to order and pay for them, and that is the only way to get the full size and resolution of the original photos..

CLASSMATES' PHOTOS FROM THE REUNION
PROFESSIONAL PHOTOS: MORETTI'S AND SCIOTO
Thank you to our professional photographer, Donna Federspiel Payne, who took photos at the Moretti's party and at Scioto Country Club.
We extend a special THANK YOU to Walt Dennis, who donated the fees for Donna's work both evenings.
Click the icons below for each party to go to Donna's website to see her professional photos.
Click on the first photo in each collection and use the arrows on the far right anfd far left to advance or go back. Because these are on Donna's website, we do not have the ability to add captions/labels for the pictures, but you can read many people's name tags.
UA69 GALS MEET FOR DINNER ON MARCH 9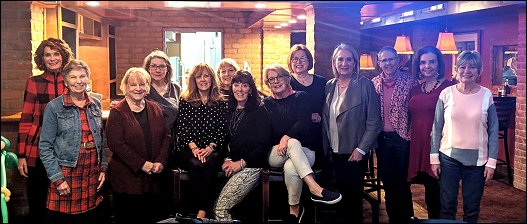 On March 9, some of the UA69 gals met at The Old Bag of Nails for dinner.
Pictured, left to right, are: Ellen Isaly Clark, Julie May Jones, Carole DiPietro Ott, Sue Jones Patterson, Lyn Skillman-Mitchell, Patty Furney, Karen Ludwig Kennedy, Lesley Beeson Tate, Ginger Richards Killinder, Valerie Lancia Speer, Sheryl Stafford Kibbey, Denise Kontras, and Kristy Kable Smith.
LUCINDA REYNOLDS: 1951 - 2019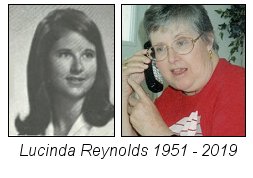 Sheryl Stafford Kibbey alerted us that she found an obituary for our UA69 classmate, Lucinda Reynolds.
Lucinda passed away on Christmas Day, December 25, 2019 after a long illness.
Lucinda was a corporate attorney during her career, and was active in her church, Peebles United Methodist Chruch, in Peebles, Ohio.
You can read Lucinda's obituary here.
Lucinda is honored, along with our other 71 UA69ers who have passed away, on our In Memoriam page.
NEW CHRISTMAS SONG, WRITTEN BY TOMMY O, ON YOU TUBE
Note to UA69ers from Tommy O'Shaughnessy:
I went to a funeral for an 8th grade friend a few years back. My first kiss, Dee Dee Monaco, who I had not seen in 55 years, was also there. She has been associated with the Music Industry all her life.
I had balance issues following Detached Retina surgery and did nothing besides sit, gain weight and watch Perry Mason (still holds up, BTW!) Depression was setting in and I fought back and wrote songs and books.
I shared with Dee Dee, and she pushed to get my Christmas ditty into a recording studio for this holiday season.
We formed OdeeO, LLC and secured trademarks and copyrights. Dee Dee put the recording team together, and here we are.
Since its debut on Monday, November 11, "Christmas, Please Linger" has been well received.
Google (owner of YouTube) will promote our song once we achieve one of two thresholds: either 1,000 YouTube subscribers, or 10,000 YouTube views. We're already working on our next release.
Please view the video. We hope you enjoy the song, and if you do, please send the link to your friends and family, and subscribe to our channel. Thank you!

You can email TommyO here.
CHEERLEADER FLASHBACK!
The photo below from 1964 shows Robin Christy, Kris Paoletti, Debbie Phillips and Bev D'Angelo with the late Ginny Poe and with Dawn Comfort (Dawn did not graduate with us).
Below that photo is a picture of Bev, Debbie, Kris, and Robin at the Scioto reunion party, 55 year later, on July 6, 2019.
THANK YOU to Kris Paoletti Surrey, who submitted the pictures.
1964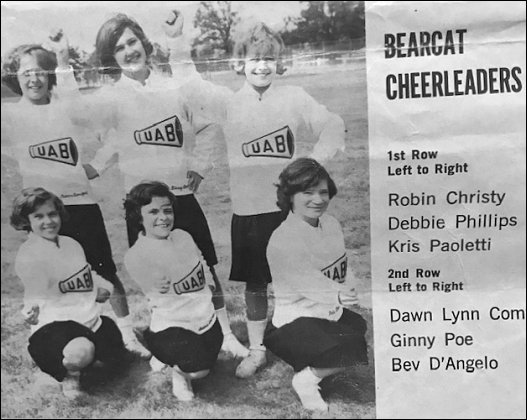 2019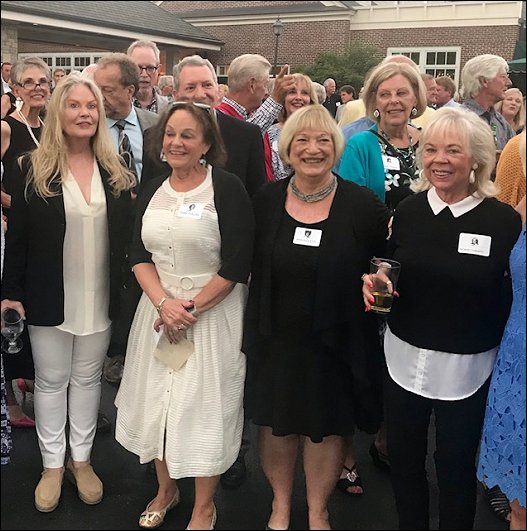 THANK YOU TO THE REUNION COMMITTEE MEMBERS!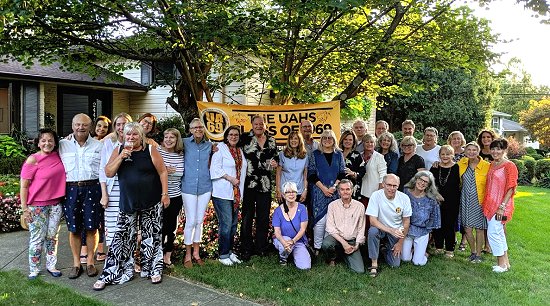 THANK YOU so much to everyone from the UAHS Class of 1969 who worked so hard on our various reunion committees, making our 50-year reunion spectacular! The committee (minus a few who were unable to come - and we missed them!) gathered together on Sunday, August 25 to celebrate the reunion's success. Click the photo to enlarge it and see the names.
REUNION PHOTOS

THANK YOU to everyone who sent in pictures from the reunion events!
The photos from the various reunion events have been organized into 9 Shutterfly albums online. To view them:
1. Click the link to the album you wish to view.
2. Click the first picture to bring up the entire album. There are forward and backward arrows above each image.
3. Click the arrows to navigate through the albums, or if you want them to advance automatically, click "Slideshow", on the left above the pictures. This feature does make the photos larger.
4. You'll find the names of people in each picture in the bottom left corner of each image.
5. If you want to purchase any of the pictures, you can do so by clicking "Review and order" in the upper right corner, above the image.
6. OR - If you want to save a copy of a picture to your hard drive, I suggest doing a screenshot. Shutterfly prefers that you to order and pay for them, and that is the only way to get the full size and resolution of the original photos..

CLASSMATES' PHOTOS FROM THE REUNION
PROFESSIONAL PHOTOS: MORETTI'S AND SCIOTO
Thank you to our professional photographer, Donna Federspiel Payne, who took photos at the Moretti's party and at Scioto Country Club.
We extend a special THANK YOU to Walt Dennis, who donated the fees for Donna's work both evenings.
Click the icons below for each party to go to Donna's website to see her professional photos.
Click on the first photo in each collection and use the arrows on the far right anfd far left to advance or go back. Because these are on Donna's website, we do not have the ability to add captions/labels for the pictures, but you can read many people's name tags.
MATT BACON SENDS IN THE 1969 COMMENCEMENT PROGRAM

Matt Bacon has contributed the June 5, 1969 Class of 1969 Commencement Program to share with the class.
You can see the entire program here. Thank you, Matt!
UA69ers MEET MRS. RICHMOND FOR LUNCH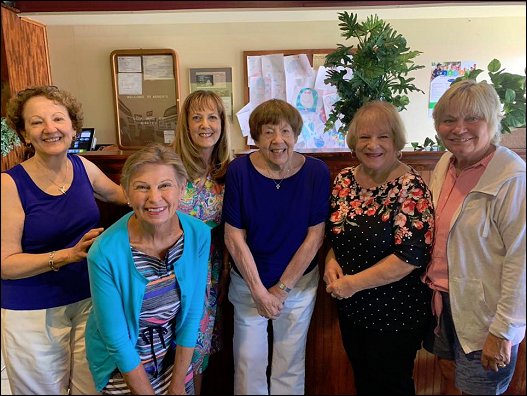 L-R: Ann Salimbene, Julie May Jones, Lyn Skillman Mitchell, Mrs. Elizabeth Richmond, Carole DiPietro Ott, and Kristy Kable Smith
Since Mrs. Elizabeth Richmond was unable to attend our 50-year Class Reunion, several of us decided to meet her for lunch at the end of July. What a rare opportunity it was to be able to share with this amazing lady the impact she has had on our lives! She was thrilled that she had inspired several of us to become English teachers or seek careers in journalism.
After having already taught for six years, Mrs. Richmond retired from Arlington after twenty-four years. Then she taught at Wellington for another ten years in what was supposed to be a "part time" position.
Besides being involved in many activities in her retirement, Mrs. Richmond travels yearly to the United Kingdom.
Pictured above are Ann Salimbene, Julie May Jones, Lyn Skillman-Mitchell, Mrs. Elizabeth Richmond, Carole DiPietro Ott, and Kristy Kable Smith.
VINTAGE PHOTO OF THE 1969 "IN THE KNOW" TEAM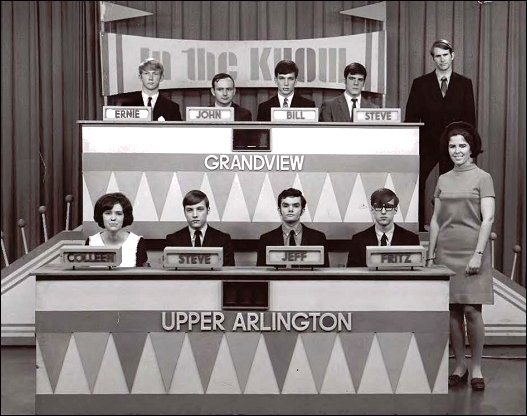 Colleen McMahon contributed this 1969 photo of our Upper Arlington High School In the Know Team.
Colleen, Steve, Jeff and Fritz ended up winning the entire tournament, and UAHS was crowned as the Championship Team for 1968 - 1969. We beat Watterson in the final match - just as we did in football!
Pictured, left to right, are: Colleen McMahon, Steve Goldsmith, Jeff Putnam, Fritz Zeigler, and Advisor Katie Fulton.
JIM LONG REFLECTS ON OUR REUNION IN FCC PUBLICATION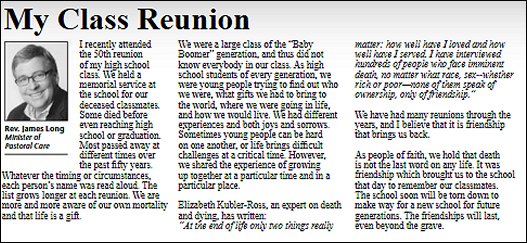 Rev. Jim Long shared his reflections on our 50-year reunion his column in FirstNews, which is the monthly news publication of First Community Church, where Jim is Minister of Pastoral Care.
To read the article more easily, please click here to go to the FCC website. Then use the arrows on the right side to advance to the third page, where you'll see Jim's article. You can then click the icon in the center of the publication to enlarge it to fullscreen.
"TWIXT' TEENS" - A BLAST FROM THE PAST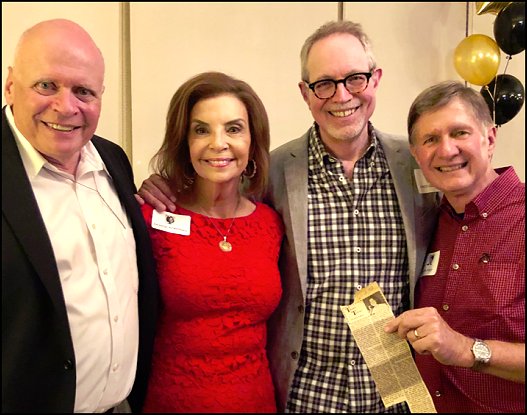 At our 50-year reunion, Mark Frey shared the July, 1968 original newspaper article from Denise Kontras' "Twixt Teen" column in the UA News. Both Mark and Fred were featured in Denise's column that week.
Pictured, left to right, are: Mike Stoyak, Denise Kontras, Fred, and Mark Frey.
DISPATCH ARTICLE HIGHLIGHTS 1960S GOLDEN BEARS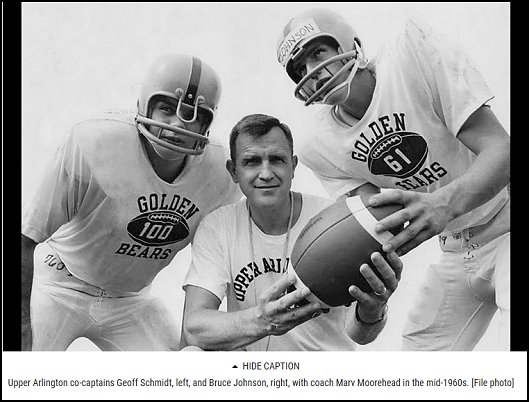 From the July 29, 2019 Dispatch: An out-of-the-blue Twitter message request from an area football coach recently sent me on a summer road trip through what some of us in The Dispatch Sports department call "Big Blue."

The thick, blue binder — maintained through the years by former Dispatch high school sports historians Jim Wharton and Rick Thomas and now by yours truly — contains a page for each current area high school, grouped by their current conference affiliation.

Each page lists the school's coach and year-by-year record in football and boys basketball, going back to the early 1900s in some cases (East, West, Lancaster, Newark, etc.).

However, many team records are incomplete before the 1960s, when standings with overall as well as league marks were published with regularity.

When the current coach of a successful central Ohio program expressed curiosity as to how his team's record stacked up not only against others this decade but also powers in past decades, we knew "Big Blue" was the place for answers.

Here's what a lazy Saturday afternoon of research produced. Enjoy as you await the start of practice Thursday.

Read the article below to see how the Upper Arlington Golden Bears did in the 1960s!
Read the Dispatch article.
HASTINGS 9TH GRADE PHOTO - LABELED!
Jeff Snyder sent in this scan of the Hastings 9th grade class photo, and on the back, he had labeled most of the students' names! Click each image to enlarge it.


If you can come up with anyone's name, please indicate which row that person is in, and then indicate the names of the students on either side of the person in question. Eventually, we'll have the entire back of the photo filled out with everyone's names. Thank you for your help! And THANK YOU TO JEFF SNYDER for sending in this picture! Please email Jeff if you can supply any additional names. Thank you!
CONNIE FISHER CLARK AND BERTA BENALCAZAR: "NICE TO MEET YOU!"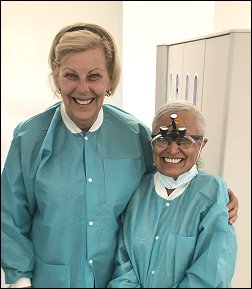 From Connie Fisher Clark:
Berta Benalcazar Howard (right) is a dentist. She and I both served on the Ohio State Dental Board, although at different times.
As a member or previous member we are entitled membership in the Commission on Dental Competency Assessments. That is an agency that administers clinical licensing examination for licensure to become a dentist or dental Hygienist.
We did not know each other in high school. Last year at a dental hygiene exam in Indiana we were both serving as examiners. We started talking and soon realized we graduated not only from the same high school, but the same class 1969. So unexpected but true joy of connecting.
DAVE COOPER PLANNING MOTORCYCLE RIDE FOR 2019 - YOU'RE INVITED!
From Dave Cooper:
Hello UA Bikers from sunny south Florida. If you are looking for a summer vacation in 2019, you're invited. Think about this one.
Since I have to come north for the 50 year reunion, I thought I would cross Laconia, New Hampshire off my bucket list on the way.
Laconia Bike Week in 2019 is June 8-16. Time to start planning for a road trip!
We just need to be back to UA in time for the 50 year Class of 1969 Reunion the week of July 1st, 2019.

See the flyer I have made, outlining some of the details.
STEVE POLK'S FOUNDATION HELPS YOUTH IN COLUMBUS
Steve Polk, of the Polk Foundation has created three new programs for low income inner city children in Columbus:
Children's theater group which got outstanding reviews for their seven performances of the Wizard of Oz.
A new West Side basketball league for children ages 7 to 18 years old. Just completed first season of 18 games each team each division plus tournament with over 200 participates.
Just started vocational and trade school for middle and high school age children. Currently 12 students enrolled in carpentry classes twice per week with instructor. All trades are offered.
All programs are free to the participants.
Polk accepts tax deductible donations from individuals, business, trusts and estates. Cash contributions can be made payable to:
Polk Foundation
1866 King Avenue
Upper Arlington, Ohio 43212
If you wish to donate appreciated securities transfer to TD Ameritrade #0188 FBO Polk Foundation
Account #424-481898.
Print this letter and Donation Form
MICHELLE CLOSE'S MOTHER, DELANA CLOSE, AGE 95, AN INSPIRATION TO ALL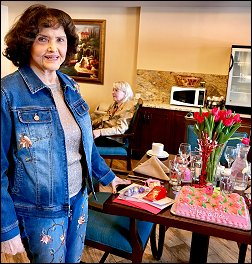 Delana Jensen Close, Michelle Close's 95-year-old mother, just published a book that she's been writing since 1955. "The Rock House" won an award for best historical fiction from the 2019 Independent Book Awards. Close isn't finished yet, though: she is currently working on two other books!
Note from Ellen Isaly Clark: "I worked for Mrs. Close and her late husband, Dean Close, while I was attending OSU. At that time, they owned Fifth Avenue Galleries, and I worked as a picture framer. Mrs. Close was in the store a great deal of the time, and I developed great respect and affection for her. Michelle's father, Dean Close, was a local restaurateur (The Grandview Cafe), gallery owner, and an accomplished artist. My two years of employment at the gallery were educational and inspirational because of the Close Family."
Read about Mrs. Close's many accomplishments and watch the video showing her embracing a 95-year life still full of hope, achievement, and learning.
NANCY BONIFIELD CONE'S DAUGHTER, JENNIFER BALL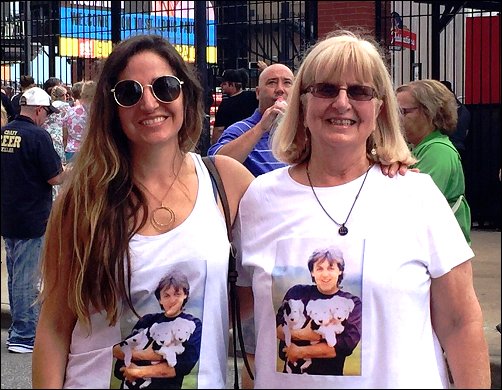 Jennifer Ball and Nancy Bonifield Cone
On February 11, classmates received a short note about Nancy Bonifield Cone's daughter, Jennifer Ball, who has recently discovered that she has a rare form of Medulloblastoma brain cancer. At that time, Nancy was appealing to our classmates for thoughts and prayers.

Since then, a GoFundMe page has been established to help Jennifer contend with the continually-mounting expenses of her treatment. We wanted to pass along this link, in the event that you are inclined to assist with a donation of any size.

Visit Jennifer's GoFundMe page here.

Jennifer has begun her radiation treatments, and although it is rigorous, she is doing quite well so far. Nancy has said that she is grateful to our classmates who have written to her with support, and she appreciates every prayer and good thought.

You can email Nancy at nlbcone@aol.com.
2019 UA ATHLETIC HALL OF FAME INDUCTS DENNY DICKE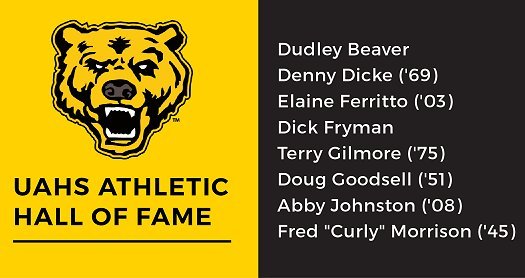 On January 5, our own Denny Dicke was inducted into the Upper Arlington High School Athletic Hall of Fame. Denny was recognized for his outstanding achievements in multiple sports while he was a student at UAHS. Denny continued his athletic pursuits during his college years at Rice University.
Denny received his award and showed his gratitude in a speech that you can read here.
The UA Athletic Hall of Fame started three years ago and there are now 17 individual inductees. Denny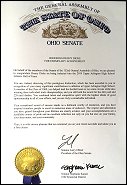 made it in this year (2019) and last year Coach Marv Moorehead was inducted, along with the entire State Championship football teams from 1967, 1968 and 1969. Congratulations to all of the coaches and players on those teams.
Several UA69ers and other friends of Denny Dicke gathered at the high school to celebrate this milestone in a most important year for our class: the 50-year anniversary of our graduation.
Click the image on the right to see the letter that Denny received from the Ohio Senate, congratulating him on this accomplishment.
Congratulations, Denny, on your many accomplishments!

John Lucas, Mike Miely, Geoff Schmidt,
Denny Dicke, Jim Merrell

Andrew Theado (UAHS Principal),
Denny Dicke, Tony Pusateri (UAHS AD)

Geoff Schmidt, Brett Moorehead,
Coach Pete Corey, Denny Dicke

Denny's Hall of Fame Trophy

Hall of Famer Denny Dicke
DONNA SELL KOHLHEPP SCHOLARSHIP FUNDS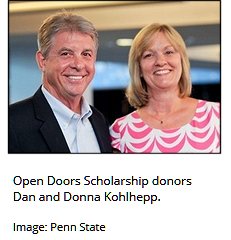 Donna Sell Kohlhepp and her husband, Dan, have established two endowment funds to encourage education and enable others to achieve their goals in this field.
1. The Donna Sell Kohlhepp Endowed Scholarship Fund in Advance Practice Nursing:
Fund Number: 603791 (The Ohio State University)
Established April 2, 1993, by Donna and Dan Kohlhepp. Distribution supports merit and need-based graduate scholarships which can be used for recruiting purposes.
You can make a gift to Donna's fund here.
2. The Sell-Kohlhepp Open Doors Scholarship established at Penn State DuBois
Dan and Donna Kohlhepp have made a $60,000 gift to establish the Sell-Kohlhepp Open Doors Scholarship, honoring both the Kohlhepp family, as well as Donna's family, the Sells.
The Open Doors Scholarship Program has generated nearly $2 million for student scholarships at Penn State DuBois so far. This unprecedented giving opportunity runs in its current form through June 30, offering the 2:1 match to donors who make a minimum $30,000 pledge, payable over five years, to establish a scholarship. Donors can also choose to donate any amount above $30,000, which the University will also match at 2:1. After June 30, the University will provide a 1:1 match to gifts of $50,000 or more to create Open Doors Scholarships.
You can make a gift to this fund here.
Donna earned her doctorate in public health at the University of Oklahoma where she also earned her master of science in nursing. She earned her bachelor of science in nursing at the Ohio State University where she met Dan. Donna taught nursing at Pennsylvania State University as an assistant professor. As a health care consultant, she has published, researched and directed numerous seminars and workshops on health and wellness. Her book, "Women and the Midlife Experience: When the Glass Slipper No Longer Fits," presents an optimist view of midlife with holistic approaches for dealing with the emotional and physical challenges it presents.
Donna is a health consultant to the Mint Culinary Studio in DuBois and her private practice, HER: Health Education Resources, provides individual health counseling particularly in the areas of menopause and thyroid disorders. She has also been active in the local community serving on various boards. The Kohlhepps have three daughters: Kaydee Gunter, Joanne Bish and Kimberly Kohlhepp, and grandson Henry Bish.
STEVE BASFORD DOES PLAY-BY-PLAY FOR OHIO WESLEYAN U.


From Steve Basford:
Again this basketball season, I am the play-by-play broadcaster for the Ohio Wesleyan men's and women's games. We have live video on stream.owu.edu.
Game dates and times vary, but they generally are on Wednesdays at 7:00 or 7:30 and Saturdays at 1:00 or 3:00.
1968 STATE CHAMPIONSHIP TEAM FOOTBALL REUNION: SEPTEMBER, 2018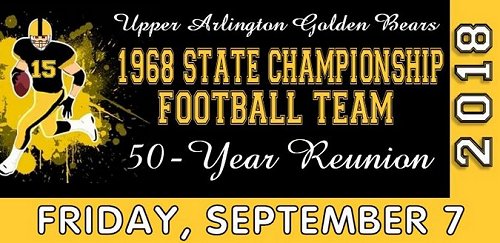 Please visit the FOOTBALL page of UA69.com to see a full report on the 1968 State Championship Golden Bear Football Team's 50-Year Reunion that was held in September, 2018.
You'll see a full-length documentary created by Brad Frick, Class of 1965, as well as more than 200 photos of the events of that weekend.
Also, there is a link to Clay Hall's TV report about the team and their reunion, and finally, a video slideshow of photos taken during the reunion weekend.

SEE EVERYTHING ABOUT THE FOOTBALL REUNION HERE.
GINGER RICHARDS' DAUGHTER OPENS NEW COLUMBUS RESTAURANT
Matthew Heaggans and Catie Randazzo (Ginger Richards' daughter) at Ambrose and Eve
Photo by Tim Johnson
Here's some exciting news from Ginger Richards!
Ginger's daughter, Catie Randazzo, and her business partner, Matthew Heaggans, have opened a new restaurant in the Columbus Brewery District!
Ambrose and Eve, located at 716 S. High Street, takes its name from Catie's grandparents. Catie is no stranger to the world of food; she owned and operated the Challah food truck prior to the opening of Ambrose and Eve.
Catie's restaurant opening made the cover of "Columbus Alive" Magazine the first week of December.

Read all about Catie and her new restaurant here:
STEVE SIMS FEATURED IN NATIONAL GEOGRAPHIC ARTICLE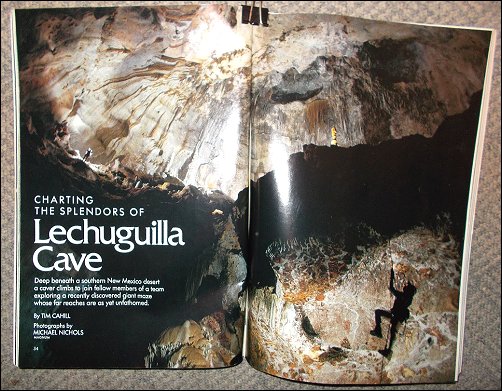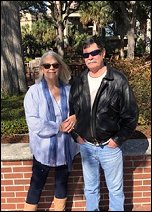 Steve Sims recently sent in an update for the UA69er Bios: Classmates Then and Now page, and included an interesting photograph from the April, 1991 issue of National Geographic. In the photo, which is located on the title page of the magazine, Steve is pictured climbing a rope in the Lechuguilla Cave in Carlsbad Caverns, NM.
Steve has been involved in exploring and mapping many caves. He has also been featured in several caving video productions that have been nationally televised. In 1993 (at age 44), Steve rappeled the deepest open-air pit in the world (Golandrinas, in Central Mexico; 1200' deep).

Please be sure to update your bio on the Classmates Then and Now page.
SCOTT ROBERTS' HOOTENANNY MINISTRY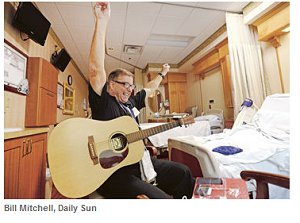 THE VILLAGES — Many people walk the halls of The Villages Regional Hospital, but not many carry a guitar.
Musician Scott Roberts is one of the small but growing number of volunteers recruited to help improve a patient's hospital stay and aid their healing process.
Through new programs, such as "Who Needs A Boost?" and Peer Connections, a musician lightens the mood in patient rooms and support group members offer advice to people recovering from life-changing procedures.
When TVRH Rehab Hospital began treating patients in July, hospital administration considered creating an in-house support group, but instead chose to tap into the multiple groups that already exist in the community.
The decision has been received well by patients and staff.
FOOTBALL ALUMNI NIGHT CELEBRATES 1967 CHAMPIONSHIP TEAM
From Dave Harding:
Had a great time with the 1967 Golden Bears at the 50th reunion of the first football State Championship team at Upper Arlington HIgh School on Friday, October 6, 2017.
Pictured below are the UA69 classmates from that team who attended.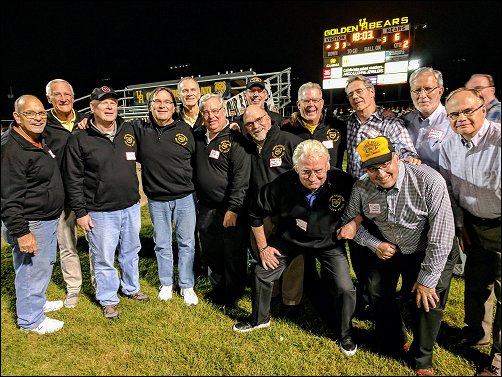 From the left: Geoff Schmidt, Denny Dicke, Dave Gordon, Dave Harding, Doug Crim, John Livingston, Michael Miely, Bruce Johnson, John C Lucas Sr, Bill Gilbert, Fritz Reitter, Jimmy Long, Wil Verhoff, Jim Kell (James E Merrell also attended, but why he is not in this picture remains a mystery)
JIM MILLIKAN SENDS PHOTOS
Safety Patrol with Mr. Hill
Tremont Elementary

Mrs. Rex - 5th Grade
Tremont Elementary
HOLLY, DIANNE AND ROBIN REUNITE!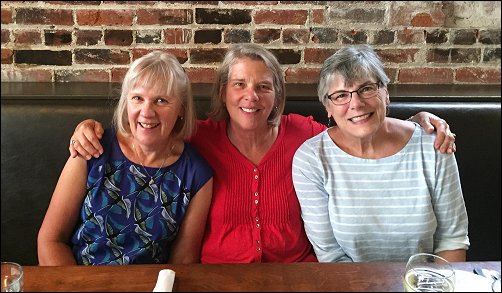 Left to right: Robin Morris, Holly Graf Fries, Dianne Detwiler Elzey
From Holly Graf Fries:
Arlington friendships are truly golden.
Dianne Detwiler Elzey and I have been friends since 3rd grade at Barrington Road Elementary; Robin Morris, Dianne and I since 7th grade at Jones Junior High.
The three of us vowed to meet in celebration of our 60th birthdays. Well, it took a few years to make it happen, but we recently met in Lander, Wyoming to hike, laugh, share treasured memories and experience the beautiful West.
Dianne (from Toledo, Ohio) flew to Denver where I (Boulder, Colorado) picked her up for a road trip to Lander. There we met Robin (Bozeman, Montana), with Lander serving as a good midway point. A new chapter has now been added to our history as a threesome. We raised a few glasses to the Class of 69!
UA69er BILL WILLER HAS PASSED AWAY

From Dick Dunkel on June 8, 2017:
It is with deep sadness, but loving acceptance that I announce the passing of my lifetime friend of more than 50 years, Bill Willer.
Bill and I shared the best of times through Jr. High and High School, somehow survived the 70's, raised families in the 80's and 90's, and in recent years were travel companions from skiing the Colorado Rockies to lounging on the beaches of the Dominican Republic.
My life was immeasurably enriched by his outgoing spirit and loyal friendship. He taught me to water ski, guided me to my wife of 39 years, and got me to the slopes of Vail for the first time. I can only hope that he felt and treasured the love and gratitude of our unending friendship as much as I did. He now can realize the light, love, and peace that the last months of his life did not afford him.
A memorial service is planned for Wednesday, June 14 at 11:00 am at the Lebold-Smith Funeral Home in Bolivar, Ohio. An obituary may be viewed at smithfuneral.com.

DECADES OF FRIENDSHIP SHARED BY BILL WILLER AND DICK DUNKEL

Lake Cumberland - 1977

Lancaster - 2015

New Year's Eve - 2011

Vail - 2007
JIM FERGUS SHARES VINTAGE PHOTOS FROM 1969 UA TRACK TEAM
From Jim Fergus:
I've been going through some old pictures and found these from the 1969 Ohio State Track meet. It includes Earl Hill, Denny Dicke, Bill Riesenberger and me from the class of 1969. Also pictured are: Marv Crosten, John Kingsboro, Jeff Sorensen and one I didn't identify.
Denny Dicke

Coach Marv Crosten with Earl Hill and Denny

Front: Bill Riesenberger, John Kingsboro
Back: ___, , Coach Crosten, Earl Hil

Scott Soronen , Coach Crosten, ___. Jim Fergus
NOTE FROM KAREN SHAFER ABOUT TRI-VILLAGE LIONS CLUB

From Karen Shafer
I am a member of Tri-Village Lion club; We support the Eye Bank. Pilot Dogs, and the Ohio State School for the Blind Marching Band, to name a few. We also do a Give a Book Get a Book campaign where children get to pick two books:one for themselves and on for another in more poverty stricken areas. We want to encourage reading
Now it is time for the Give Your Write Arm to a solider on active duty. We need letters from you that offer support for are troops.It would be great if you can write a letter or have yoru grandchildren draw a picture.
We will be at MCL on Veterans Day to collect letters. So please take five minutes and write a letter as the soldiers who protect us. They really love it . Thanks in advance. No money asked ... just a few minutes of your time.
PS: If you have any books for kids or adults, please give me a call at 614-565-1035 and we will pick them up


PHOTOS AND VIDEO

JULY 2 - 6, 2014
Please note that the pictures vary in size and quality because they came from
various classmates' cameras and phones.
PHOTO SLIDESHOWS

VIDEO CLIPS

Thank you to Joe Bratton for the Brent Hawley video clip.

Several classmates have replied with memories or highlights from the 2014 45-year reunion.
CLASSMATES SEND GREETINGS
Not everyone was able to attend the 45-year reunoin, but they were with us in spirit. On the left, Phil Cardi and Jay Moffitt say "Hi" from the golf course at Jackson Hole. On the right, Jack Cochran sends greetings from Georgia, where he and his wife, Mary, were visiting family.
| | |
| --- | --- |
| | |
| Phil Cardi and Jay Moffitt | Jack Cochran and his wife, Mary |
STEVENSON / LESHY REUNION IN ENGLAND!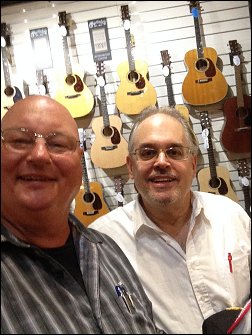 From Jeff Stevenson:
I had a different kind of class reunion though. I met up with John Leshy at Manson's guitar shop in Exeter, England on July 8 (selfie attached). The last time John and I had seen each other was at the class reunion in 1984! John is doing great, and he is still playing guitar - VERY WELL!!!
He brought some old photos with him. They were pics of The Squires back in 1965. Clearly visible are John (his mom took the pics), George Frecker, Mike Doyle and me. One was during a gig we played in the Tremont Elementary School gym, one was at one of our Ohio State Fair gigs and the other two were of the band practicing in John's basement. What a blast from the past!
It was really great to see John again after all these years. We did our best to catch up, but you can't cover 30 years in an afternoon. It was all good though.
VICKI DOWNS' FISHINGER ELEMENTARY SCHOOL PHOTOS
Vicki Downs McCulloch brought these two elementary school photos to the reunion, and she has provided the names of amost everyone in the pictures. If you know the name of anyone who is represented by a question mark, please let me know. Thank you, Vicki!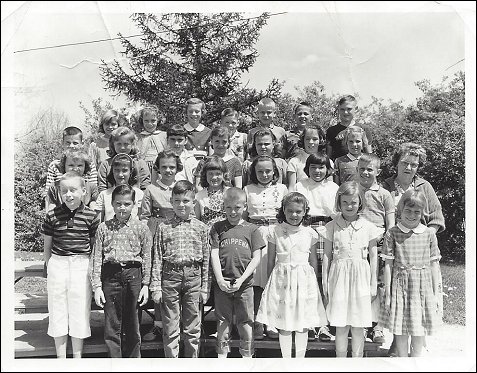 MRS. BLEIMAS' 4TH GRADE: FISHINGER ELEMENTARY SCHOOL
Row 1: Tim Souders, Paul Stone, Dick Bluff, Mike Doyle, Rhonda Lace, Trisha Moore, Vicki Downs. Row 2: Laurie McLaughlin, Kathy Sheifer, Vicci Hiltabiddle, Linda Brigman, Louise Tragard, Peggy Roussey, Randy Neidenthal, Mrs. Bleimas. Row 3: Herb Johnson, Janice Rowland, Elsie Salzgaber, Patty Stone, Susan Perry, Karen Ludwig, Kitsy Shearer. Row 4: Jackie Cooper, Pam Shuey, Christina Nowell, Garry Hall, Glenn Dunnington, Pat Born, Bill Clark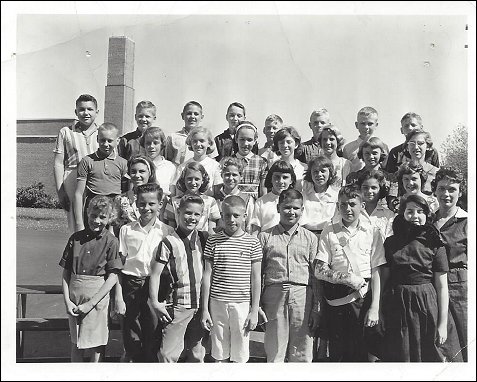 MRS. MCGUIRE'S SIXTH GRADE: FISHINGER ELEMENTARY SCHOOL
Row 1: Vicki Downs, Jack Griffith, Bruce Fahlander, Mike Doyle, Lance Voss, Fred Wheeler, Colleen McGucken. Row 2: ?, Candy Taylor, Shirley Parsley, Elsie Salzgaber, Libbie Pfefferle, Debbie Cato, Melinda Fritz, Mrs. McGuire. Row 3: Tim Souders, Pam Shuey, Donna Sell, Teri Scott, Debbie Deam, Kitsy Shearer, Gwen Patterson, Jane Joost. Row 4: Ken Ross, David Edwards, Pat Born, Dean Grinch, Dennis Driggs, Neil Rouse, Randy Juilliard, Roger Doering
STEVE HOLLOWAY AND WIFE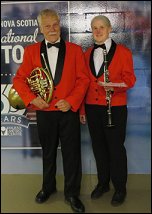 The Royal Nova Scotia International Tattoo is a week-long event held every year in Nova Scotia.
This year Steve Holloway and his wife, Donna, were invited to perform at the event; this is why he missed the reunion. The show was a great success, playing to audiences averaging 5,000 each evening. Pictured is Steve and Donna, in costume.
The two-and-a-half hour family show is fast-paced – every scene only lasts about 3-6 minutes, so there is always something new to see and experience. There's bagpipes, highland dancers, la culture de l'acadie and military traditions.
CRAIG ROBINSON UNEARTHS RARE FIND!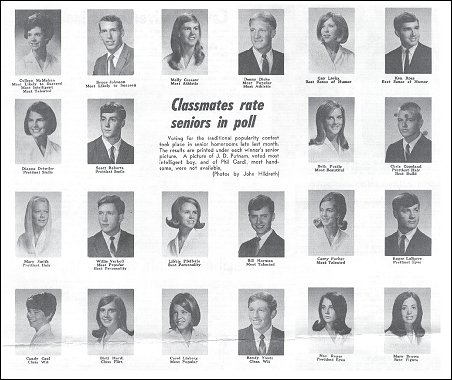 Craig Robinson sent in a couple of pages from the 1969 school newspaper, The Arlingtonian. One page shows our traditional Senior Awards (congratulations again to the winners!!) and the other contains "Graduation Brings Memories," our Class Bequeaths to our Teachers, and "Seniors Speculate: What If ... "
Thank you, Craig, for bringing back a lot of fun memories from 45 years ago!
See the Arlingtonian articles. (Be sure to view both pages!)
WHAT A GREAT FIND! THANK YOU, SUSI WISEMAN THOMAS!
Susi Wiseman Thomas is sharing her Pen Points magazines from 1964, when we were in 7th grade, and from 1966, when we were in 9th grade at Jones Junior High School. Craig Robinson has submitted his 1965 Pen Points magazine for your reading pleasure!
Pen Points was a magazine that was (from the magazine's Foreword) "designed to represent the many students who have felt the desire to express themselves and who have been able to do so effectively through form and word. It is dedicated to every student reader, with the hope that he or she will also attempt to reproduce thoughts and emotions for the many persons who are searching for truths."
Some of the writing and artwork is really thoughtful and insightful! Even if you didn't attend Jones, you'll see the works of many of your UAHS friends in here!
Click on either image of the Pen Points covers to see the magazine in its entirety as a PDF. You'll see poems, stories and artwork from dozens of our classmates. Clearly they highlighted the work of the 9th graders, so the 1966 (yellow and orange) issue has more featured stories and illustrations by our UA69ers.
The teachers/editors included: Mrs. Marian Smith; Mrs. Betty Hennessey; Mrs. Joyce Guckert; Mrs. Frances Bretz; Miss Judy Hudnall; Mrs. Ruth Armstrong;Mrs. Martha Yutsey; Mrs. Gloria Bohen; Mrs. Mary Jane Spahr, and Mrs. Ellen Buesling. The Art Editors were Mrs. Anne Smith and Mr. Jerry Tollifson, and the Typist was Mrs. Ruth Griffith. The English Coordinator at the time was Mr. Stephen Nesha.
In 1964 and 1966, our superintendent was Mr. Walter Heischman. The Jones Principal was Mr.Samuel Henderson (1964) and then Mr. David Jones (1966), and the Assistants to the Principal were Mr. Bernie Cellar, Mr. Marvin Baker, and Mr. Walter Niceswanger.
JUST FOR NOSTALGIC FUN!

Terry Looker sernt this link to an online jukebox! YOu just select one of the dates and you can hear the songs that were popular in that year!
STEVE MORLEY SINGS "SWEET CAROLINE"!
At the Kiki Street / Greg Kullman wedding, our own Steve Morley pur Neil Diamond to shame with his rendition of "Sweet Caroline! Watch the YouTube video below!
DOUG EZELL AND MIDLIFE CHRYSLERS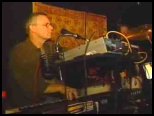 Doug Ezell contacted me to report that his band, The Midlife Chryslers (and you gotta love the name!) was the subject of a video interview on KTVQ-TV in Billings MT. The band, who has been at it for more than a decade, has several iteresting engagements coming up, including a Las Vegas convention during which they will entertain 20,000 audience members!
Watch the video interview featuring our own Doug Ezell
Visit MidlifeChryslers.com

Like the Midlife Chryslers on Facebook!
BARRINGTON MEMORIES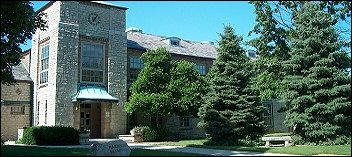 In response to my note asking for former Barrington students to share their memories of our days at the first elementary school in Upper Arlington, these classmates offered their thoughts, which will be shared in an interview to be videotaped and shown at a dedication ceremony for the new gymnasium and other improvements recently made to the Barrington building. Click each classmate's name to see these memories:
| | |
| --- | --- |
| | John Williams added a PS to his list of Barrington memories: the FLUTAPHONE! Do you still have yours? Remember how we all played the flutaphone in Mrs. Glass' music class? |
ALUMNI ASSOCIATION WEB SITE: BEARALUMS.COM
Please visit Bearalums.com, the official Web site of the Upper Arlington Alumni Association.
The Alumni Association keeps a database of thousands of graduates of our high school and helps reunion chairmen send mailings to their classmates. UAAA publishes a newsletter, Traditions, for all members, full of information and news about UAHS alumni.
Our class is amazing! Below is a list of classmates from 1969 who have joined the Alumni Association at the two top levels: Life Member, and Golden Bear Member. Please show your support of this great school system by joining. You can do it by clicking right here. Thank you!
| | |
| --- | --- |
| | Life Members: William A. Clark, David R. Cooper, Bob Crunelle, Annette T. Daniel, Judy Winters Dennis (D), Walter E. Dennis, Jr., David A. Edwards, Jr., Anita K. Evans, Curtis Eyre, Thomas R. Grehl, Brian Hazelbaker, Lorna Lee Heydinger, Julie May Jones, Debbie Leggett Carnes, James M. Long, Elizabeth Postle Henry, Janet Richter Boyer, Donna Sell Kohlhepp, Lyn Skillman Mitchell, Christine Wheeler McKinney (D). |
| | Golden Bear Members: Craig W. Anderson, Jeff Browning, Beverly D'Angelo, Walt Dennis, Patti Elam, Frank A. Guglielmi, Ellen Isaly Clark, Cyndy McLane Street, Barbara Minton Miller-McGlinn, Jay Moffitt, Thomas F. O'Shaughnessy, Beth Postle Henry, Pam Shuey Snyder, Scott Street, and John Williams. |
STEVE HOLLOWAY PUBLISHES HIS SECOND BOOK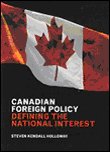 Steve Holloway has published his second book, Canadian Foreign Policy: Defining the National Interest. Though designed for college courses on foreign policy, the book serves as a good general introduction to Canada, its role in the world and its relations with the US.
Steve is currently chair of the Political Science Department at St. Francis Xavier University, in beautiful Nova Scotia. StFXU is a small liberal arts college (about 4000 students) which has frequently been ranked as the best small university in Canada. More information about the book and ordering can be found on Amazon.com or on this link.
See Steve Holloway's amazing (and huge!) collection of photos and scans of school programs from Hastings and UAHS.
PLEASE UPDATE YOUR INFORMATION!
Please check your name, address and telephone number on the Directory pages and let me know if any of your information has changed. If you spot goofs in other people's addresses or phone number, will you please tell me? I'd like this list to be complete. Thanks!